DJ RANDY KATANA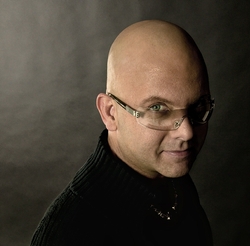 Randy Katana has been pioneering the Dutch dance sounds for well over a decade now. He founded the legendary Jinx and BPM Dance label collective (2 Play, Silver Premium, Tri Lamb, Smoke Free DJ Tools, Bango) that spearheaded the development of trance music we know it today, finding production talent such as Signum, Mac Zimms and Mark Norman along the way.

Randy is no stranger to the studio himself of course, and is one of the most influential and forward thinking trance producers of our generation. Producing under the name Katana at first, then DJ Randy, and more recently Randy Katana, there are few producers who can claim to have been in vogue and in demand for a whole decade in what is a rapidly changing scene. It wasn't until the summer of 2003, when Randy's involvement in label management reached a crossroads, that best friend Abel Ramos (no. 1 DJ in Spain) convinced him to become a fulltime DJ.

After a tryout at one of the biggest clubs in Amsterdam he was immediately accepted as resident DJ at XL (Kingdom), and his DJing progress since has been nothing short of phenomenal. Randy Katana became one of the fastest growing artists in the Netherlands over the next year, the most booked international DJ in Spain, and played countries like Poland, Malta, Crete, Sweden and France. In Madrid he headlined the Fabrik White Party together with Judge Jules for a capacity crowd of 7000, while in the Netherlands he performed at some of the biggest festivals, including Dance Valley (Summer and Winter editions), Beachbop and Almere Free Festival. Randy's rise through the DJ ranks was in overdrive and fuelled by some of his biggest productions to date.

Hot on the heels of his massive 'Fancy Fair', 'Alesis' and 'Dulce Vita' releases that were hammered by every A list trance DJ on the planet, Randy followed up with the awesome 'In Silence', awarded 'Best Track Of The Year' in the 2004 www.tranceaddict.com poll, and in 2005 came 'Pleasure Island', remixes of 'Fancy Fair' and one of the biggest dance anthems of the year in 'Play It Loud'. Moving into 2006 and Randy's DJ diary features virtually every major trance event in Europe, including Trance Energy, Dance Valley and Pleasure Island festivals in the Netherlands, Planet Love, Goodgreef, The Gallery, Inside Out and Slinky in the UK, plus massive one-off events in eastern Europe, Scandanavia, Ibiza, Australia and beyond. Worldwide recognition for a true pioneer of trance!