Saskia Laroo
1 Globale levensgeschiedenis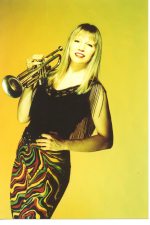 SASKIA LAROO werd geboren op 31 juli 1959. Zij werd geboren in de ""Jordaan"" (de tuin), een beroemde buurt in het centrum van Amsterdam, Nederland. Zij groeide hier gedeeltelijk op, 's winters in Amsterdam en in de zomer in een klein nabijgelegen dorpje ten Noorden van Amsterdam, genaamd: "Den Ilp", waar ze permanent ging wonen vanaf haar zesde jaar.Zij behaalde haar Atheneum B diploma op de middelbare school genaamd: het "Zaanlands Lyceum" in de nabijgelegen stad Zaandam. Toen zij 18 werd ging ze weer in Amsterdam wonen om daar wiskunde te studeren aan de Universiteit van Amsterdam. Zij ontdekte het hoofdstedelijke muziek nachtleven en bezocht concerten, nam deel aan workshops, jamsessions, probeerde zoveel mogelijk songrepertoire en muzikale stijlen te leren en ontwikkelde haar podium persoonlijkheid. Zij boekte haar eerste betaalde optredens en besloot professioneel muzikant te worden. Op haar negentiende jaar na 1 jaar wiskude gestudeerd te hebben veranderde ze van studierichting en ging naar het Conservatorium in Alkmaar waar ze twee jaar klassiek trompet studeerde. Daarna studeerde zij twee jaar op het Amsterdamse Conservatorium als improviserend musicus met hoofdvak trompet en naast bijvak piano ook klassiek contrabas. Toen zij vijfentwintig was studeerde zij in twee jaar af : "Trompet Lichte Muziek", aan het Conservatorium te Hilversum. Zij ging door haar muzikale carrière zoveel mogelijk uit te breiden door zichzelf steeds aan nieuw publiek voor te stellen als gevolg van de door haar gecreeërde interesse.
2 Muziekinstrumenten
Gedurende haar kindertijd volgde Saskia muzieklessen op verschillende muziekinstrumenten zoals: Vanaf haar zevende tot haar elfde jaar: blokfluit (sopraan&alt) Vanaf haar achtste jaar: trompet: eerst piston/cornet, toen bugel voor 1 week, direct terug naar cornet en uiteindelijk toen zij achttien was de switch naar trompet. Van haar twaalfde tot en met haar veertiende, drie jaar cello. Op haar vijftiende jaar: een jaar klassiek gitaar en pop/vocal gitaar begeleiding, voornamelijk zelf aangeleerd. Daarnaast leerde zij hier en daar wat piano en elektronisch orgel vaardigheden. Ze begon op negentienjarige leeftijd te werken als professioneel trompettiste. Saskia 's tweede muziekinstrument is bas. Omdat Saskia al ervaring had met cello en gitaar kon zij makkelijk switchen naar acoustische en elektrische bas. Ze wilde weten hoe het voelt om deel te nemen aan een rhythm section die een solist begeleidt en begon toen zij negentien jaar was contrabas te spelen. Ze nam klassiek les en begon professioneel op te treden als jazz contrabassist en later ook als basgitarist. Toen Saskia zevenentwintig jaar was besloot zij zelf vocals en alt saxofoon te studeren en deze instrumenten nu en dan te gebruiken voor live of studio optredens. Saskia begon recent haar eigen vocals meer te gebruiken in haar optredens: MC (Master of Ceremony) Vocal entertainment: speeching, rapping, singing; voornamelijk geimproviseerd en toegepast op de manier hoe Saskia haar show wil creeren
3 Muziekstijlen

SASKIA LAROO werkt al meer dan twintig jaar als professioneel muzikant zowel live als in de studio. Op haar achttiende begon zij muzikale optredens te doen, in het begin voornamelijk promotioneel maar binnen twee jaar werkte zij als bandleider, freelance muzikant en als gastsolist in bands met verschillende muziekstijlen:

3-1 JAZZ

Cooljazz, dixieland, bebop, freejazz, bigband, fusion, avant garde

3-2 POP

blues, rock, alternative, hiphop, soul, seventiesR&B, new R&B, funk, heavy metal

3-3 DANCE

drumn Bass, techno, electro, lounge, downtempo, house, garage, two step, trance, progressive

3-4 WORLD

salsa, reggae, dancehall, african, carribbean, calypso, soca, merengue, mexican, latin, cumbia, kaseko
4 Eigen Bands/Acts

SASKIA LAROO treedt op door de hele wereld met haar eigen bands/acts:

4-1 Saskia LarooRap Band

Dance Rap Jaz

4-2 Saskia Laroo Elektrofunk Band

making Miles on electric seventies

4-3 Jazzkia

straight ahead Jazz, pure beboppin

4-4 Salsabop

Afrolatin CuJazz

4-5 Saskia 's Solo Act

Dance with DJ-ing

4-6 Lounging with Laroo

Smoothygroovy BreakBeats with Hotlicks

4-7 The Laroo Combination

All Star All Around Phatstyles
5 Record label

Sinds 1994 heeft Saskia Laroo haar eigen platenlabel, genaamd: LAROO RECORDS. De onderstaande titels zijn permanent verkrijgbaar

titel

jaar release

artiest

muziekstijl

5-4 Sunset Eyes 2000

1999

Saskia Laroo meets Teddy Edwards and Ernie Andrews

Straight ahead Blues 'n bebop Jazz

5-3 Jazzkia

1999

Saskia Laroo

Straight ahead acoustic Jazz: Muted Miles Davis in the sixties

5-2 Bodymusic

1998

Saskia Laroo

Rap Dance Jaz

5-1 It 's like Jazz

1994

Saskia Laroo

Acid Dance Jazz
6 TOURS

6-1 EUROPE & AFRICA & MIDDLE EAST

Netherlands, Belgium, Luxemburgh, Germany, Austia, Swiss, France, Spain, Italy, Poland, Tsjechia, Slowakia, BulgariaTurkey, Lebanon, Malta, South Africa

6-2 RUSSIA & FAR EAST

Moscow, Minsk, Japan, Philippines, South Korea

6-3 NORTH & SOUT AMERICA & CARIBBEAN

New York, Connetticut, Cleveland-Ohio, Detroit- Michigan, Los Angeles, San Francisco, Denver, Georgia, Curacao, Aruba, Bonaire, St Maarten, St Eustacius, Colombia.
7 Opgetreden met

7-1 JAZZ

Warren Byrd, Ernie Andrews, Ghasem Batamuntu, Madeline Bell, James Carter, Billy Child, George Coleman, Ronny Cuber, Hans Dulfer, Teddy Edwards, Essiet Essiet, Roy Hargrove, Slide Hampton, Billy Higgins, Pim &Ruud Jacobs, Denise Jannah, Wynton Marsalis, Butch Morris, David Murray, Marcus Printup, Jean Toots Thielemans, Bennie Wallace, Diane Witherspoon, Yellow Jackets, Lew Tobackin, Michiel Borstlap.

7-2 POP

George Benson, Candy Dulfer, Foley, Rosa King, Marcus Miller, Maceo Parker, Courtney Pine , Eveline Carels, Blixx, Trijntje Oosterhuis

7-3 DANCE

Ronald Molendijk, Franky D, Ken Ishi, Graham B, Dimitri, Isis

7-4 WORLD

Jesus Alemany&Sierra Maestra , Larry Harlow, Nicky Marrero, Edy Martinez, Mario Rivera, Hilton Ruiz, Hugh Masekela, Los Papines.
8 Studio opnames met:
Teddy Edwards, Hans Dulfer, Candy Dulfer, Rosa King, Ernie Andrews, Kool Ace, Mellow Mac, Petra, Piman&Memre Buku, Fra fra sound, Novaghost Sect*tet, Ronald Snijders, Rob Gaasterland&Project 2000, Mola Sylla, Tierra Caliente, Gerardo Rosales, T spoon, Johnny Kelvin, Billy Preston, DJ Graham B & DJ Dimitri.
9 Festivals
Nederland: Northsea Jazzfestival, Germany: Burghausen Jazzwoche, Swiss: Montreux Jazzfestival, Bulgaria: Sofia Jazzfestival, Lebanon: Hamra Festival, South Korea: Mega Dance Festival, Japan: Sunset Festival, USA: Atlanta&Missouri Jazzfestival, Colombia: Bogota Theatro Jazzfestival
10 Co billing acts
Courtney Pine Band, Lenny White Band, Yellow Jackets, Rosa King Band, Candy Dulfer Band, Hans Dulfer Band, Jan Akkerman&FOCUS Band, Thijs van Leer& Focus Band, Caught in the Act, DJ BOBO, Fun Factory, Maceo Parker , Lew Tobackin, Septeto Santiagero, Toots Thielemans, Lee Towers, Pia Beck, Sonny Rollins, Sheila E, Dee dee Bridgewater, Terence Blanchard
11 USA press critics

Hornplayer Saskia Laroo is a Jazz Goddess

By India Blue, The Hartford Advocate, Connetticut, march 1, 2000

Saskia mixes styles of music and culture as if they had always meant to be together

By J. Lyon Layden, Creative Loafing, Atlanta, GA feb 2001

Ms Laroo is a force to reckon with

By: James D. Armstrong, Jr, Jazz Now Magazine Dec 1999 Jan 2000

Her harmon mute playing on "Blackbird" managed to suggest Davis without attempting to imitate him

By Don heckman, Los Angeles Times Dec 29,2000

Her tasteful solos have their subtle surprises and she is obvious an expert improviser

By: Scott Yanow, LA Jazz Weekly magazine July 2000

Her muted trumpet may remind you of Miles, but the style and improv are stricktly that of a rising star in the Jazz world

By: Arthur C. Bourassa, Jazz Now magazine Nov 1999
12 USA MEDIA CREDITS
Featured among 29 other of the most exciting women in jazz today. March 2000 – Women 's History Month Celebration ; KLON Radio Jazz Guide, Los Angeles, USA. Other names: Billie Holiday, Diana Krall, Ingrid Jensen, Cindy Blackman
Playlist : radio active nr 23 : Saskia Laroo- Sunset Eyes 2000 (nr 22: Michael Brecker/ nr 24: Dave Grusin) Jazziz magazine feb 2000 ; RadioActive List was compiled in September from USA jazzstations
Featured Music contribution by Saskia Laroo as author, performer and record label on Video movie starring Calista Flockhart (Alley Mc Beal) BEST FEATURE on New York International Independent Film and Video Festival jan 2000