Trembling Highburys
(Blues)

The Trembling Highburys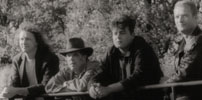 Marco Nicola - vocals, guitars
Simon Bakker - bass
Ed van Ettekoven - harmonica, percussion
Rob Meyran - drums
The Trembling Highburys, formed by singer/songwriter Marco Nicola, are a rootsrock band from Beverwijk, The Netherlands.
Their music is to be described as American sounding rootsrock, influenced by blues, rock, roots and a touch of country.
Many concerts followed, also support acts e.g. for Julian Sas Band and Bintangs, but at this point The Trembling Highburys were not able to break from the regional scene.
In October 2001 an EP was released containing 5 songs. The album was called 'Only Night Time...', also produced by Schierbeek. Like its predecessor again possitive critics in reviews and media followed.
Radioshows and more gigs resulted from this release as well as a selection for N.P.I's Demontage Compilation cd.
Early 2002 the band finally started off doing concerts throughout the Netherlands, both acoustic as full power electric.
More support acts followed, to name a few: Fred Eaglesmith, Flavium, Cuby & the Blizzards and Julian Sas Band.
The third Trembling Highburys album is called 'The moon is mine'. This album displays a more solid and complete sounding band. The Trembling Highburys show with this album their professionalism in both writing songs as well as in bringing subtleties more into focus musically, as four acoustic songs are presented on the album embedded in the bands' characteristic rocking sound.
The album was recorded, mixed and produced by Albert Schierbeek at Unit 13 Studios Haarlem and was released in March 2003.

History
Around 1997 Albert Schierbeek notices singer/guitarist Marco Nicola play at a stage café, where Nicola regularly jams with fellow musicians. Their meeting results in Nicola's contribution to a Haarlem compilation album called Lawaaizone 98, published by Henk Tijbosch.
One can speak in terms of a band as soon as Albert Schierbeek and Franklin C. Misset in '97 record two originals along with Nicola as The Trembling Highburys. One of these tracks 'School's out for me' can be found on Six string love affair.
Schierbeek and Misset left soon after, leaving Nicola playing live in several Highburys line-ups up until March '99, when he manages to establish a complete band.
In the meantime several recording sessions had taken place. E.g. during radio performances and during sessions at the Jan-Paul van der Meij Studio. Recordings from these sessions can be found on Lawaaizone 99.
In December 1999 and January 2000 the band started to record their debut album at the Haarlem Recording Studio Unit 13. The album Six string love affair got very well received by public and press, receiving outstanding reviews.