NOISECONTROLLERS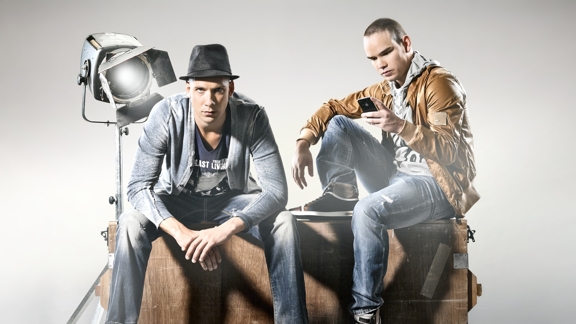 Bas Oskam (Born in 1980)
aka Kasparov
aka Roughstyler
At the age of six Bas heard a synthesizer compilation and was totally intrigued by it. He got a little keyboard and since then electronic music became his big passion. In 1995 he started making some tracks at the pc with Fasttracker 2. It was this program at witch he learned all basics of dance music. Later on he started producing with Skale. Although he still liked the synthesizer music, more and more interest in dance music came; especially the harder styles.
When a local DJ (Speedy Bass from Night-Vision) played a track on a party in 2005 he started producing more and more. Around the same time he met Arjan.
In 2005 he decided to get professional gear and started producing with Logic Pro 7 and his first hardware-synthesizer. In that time also the first releases came, which you can find in the discography

Ajan Terpstra (Born in 1981)
aka Killer Clown
Back in 1993 Arjan came in contact with hiphop and was intrigued by the dark sounds and melodies. Around 1997 he bought his first hardware and started to produce hiphop beats in Cubase. Later on, he met Twiet, who was also producing hiphop. Arjan and Twiet spend hours just creating hiphop beats. They formed a hiphopgroup called Codewoord along with the rappers Drijfgast and Eenvoud. In 1999 Codewoord recorded a demo-album and performed all over Holland.
Arjan graduated in 2003 in computer science and this was the year when he first came in contact with hardstyle and some other forms of hard dance.
Once again he was intrigued by dark sounds, melodies and fx. Around the same time Codewoord productions were standing still, nonetheless he continued to produce hiphop beats. Codewoord was coming to an end and he also quit playing the piano
In this year Arjan followed up to his musical aspirations and he started studying Composition, Music and Studio-productions at the conservatory. He switched his setup/gear from Cubase to Logic Pro 7.2 and bought some additional hardware synthesizers.
In 2005 he started to produce hardstyle and he met Bas. Noisecontrollers was born. Right now they are working hard to get some new sounds out there..and doing alot of studio time!