DJ Debra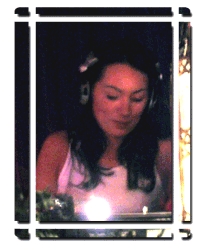 A a young age debra already knew music would be her life. her interests developed through the years, and she decided to dedicate herself entirely to electronic music. at this day and age, debra belongs to one of the leading ladies of the dutch dance scene and is eager to please the world with her high quality sound.
in 2000 dj debra teamed up with the well known producers jaimy & kenny d for her first production "jah love". several productions and remixes later, which were all realeased by blackhole recordings, debra established her name both nationally and internationally. she released "spring", her first production together with tony thomas (the producers) from london, and her track "radical" was hailed by critics, hammered by judge jules for months and is featured on his "clubbed2" mix compilation.
debra's dj-sets are most famous for their sexy grooves and proggy style house beats. after her residency at the escape, amsterdam, she now performs all over europe and beyond, like in egypt, greece, germany, israël, spain, poland, turkey and sweden. she has also been the resident dj at club c-ring in amsterdam for the past four years.
summer 2001 was very special, she had a great appearance at wildlife in amsterdam, the loveparade in berlin, at several dutch outdoor events and during her tour through greece with kevin yost, bob sinclair, nick slick and miss jools.
in 2002 she performed at a few of the best events in the netherlands such as dancevalley, impulz indoor & outdoor, wildlife and lift off, where she rocked the crowd. most time was spend in the studio for releases like "debra & the source", "my biznizz". in the beginning of 2003 she released the compilation cd "wildlife" with four of her own productions and received great critics from the club scène and music magazines such like mixmag.
summer of 2003 was spend dj-ing in clubs and on beach party's and performing with the world's greatest at "sensation white" with a venue of over fifty thousand people, "chemistry", "powerzone" and many other leading clubs. at the moment debra is working hard on some new tracks together with boy bianchi, tony thomas, jaimy&kenny d and she will be releasing at least one album and mix compilation.
so be on the lookout for some great tunes by the beautiful dj/producer debra....