DJ Hardwell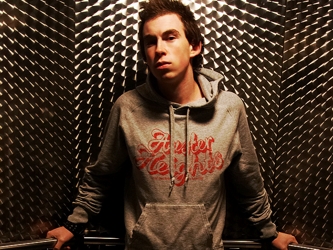 is an alias for Robbert van de Corput, born in Breda, The Netherlands, in 1988.
At the age of 8 years, he discovered his big love for music and later he started to mix and produce tracks. He was inspired by all kinds of music.
After a few years of studying piano he found out that playing a keyboard was much more fun and attractive to him. In the meantime he also discovered the PC, and gradually he learnt to use all the usual music software applications. The combination of music on PC and keyboard really opened the sky: no limits!
Hardwell was one of the first who made bubbling remixes of commercial club hits. His remix from "Without Me" (the Drunkenmunky version) became very popular in the discotheques. The Klubbheads noticed the success of this remix and via Radio 538 he was contacted and contracted by Digidance.

Hardwell is the driving force behind the Bubbling Beats parties and CD's. Bubbling Beats Vol. 1, 2, 3, 4 and 5 have been successfully released. In April 2005, Hardwell won a Dutch Urban Award with his Bubbling Beats Party concept!
In 2005 Hardwell released under the name "Mister Hard" a banging techno release called "Flirt"! This track was and still is a big floor killer. The record is spinned all over the world by many well known DJ's.

The DJ qualities of Hardwell are internationally well recognised. He already performed in the biggest clubs in the Netherlands like: HollywoodMusicHall, The Powerzone, Melkweg, Time Out, Bob's Saloon and a lot more! Hardwell is well known for his energetic mix style in a lot of genres. Hardwell hates to be caught up in one particular style; his music style varies from: Electro/Latin/Groovy House to Raw Urban and sometimes a bit Techno!

and ask anyone in the scene: Hardwell is one of the most talented DJ's!