DJ Jean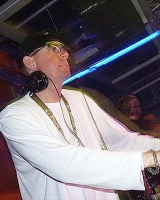 BESIDES WORLDWIDE RESPECT FOR HIS EXTREME DJ SKILLS, DJ JEAN IS ALSO WELL KNOWN AS A PRODUCER AND REMIXER. HAVING PLAYED AT MAJOR CLUBS AND EVENTS IN ALMOST EVERY DANCE-MINDED COUNTRY OF THE WORLD, HIS CLUB ANTHEM AND WORLDWIDE HITSINGLE `THE LAUNCH` BROUGHT HIM UP TO AN IMORTALITY STATUS IN CLUBLAND.

EVERY FRIDAY DJ JEAN HAS HIS OWN WEEKLY RADIO SHOW AT THE POPULAR NATIONAL RADIO STATION RADIO 538. MAKING AT LEAST THREE COMPILATION CD`S EACH YEAR AS WELL, WHICH ARE BEST SELLING IN HOLLAND, YOU COULD SAY HIS LIFE IS CONTROLLED BY MUSIC, MUSIC AND MUSIC...

BECAUSE DJ JEAN LIKES DANCE MUSIC IN GENERAL AND HATES TO BE CAUGHT UP IN ONE PARTICULAR STYLE, HIS MUSIC STYLE VARIES VERY MUCH, FROM FUNKY GROOVY STUFF TO HARD HOUSE AND TRANCE. A TRUE CHAMELEON THOUGH, MIGHT THIS BE THE REASON WHY HE MORE THAN ONCE HAS BEEN VOTED MOST POPULAR DJ IN SERVERAL COUNTRIES??

DJ JEAN HAS HIS FRIDAY NIGHT RESIDENCY AT THE FAMOUS RECENTLY RE-OPENED IT CLUB IN AMSTERDAM.