DJ Jurgen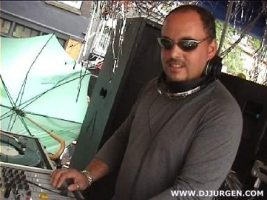 DJ Jurgen (Jurgen Rijkers) was born in Delft, The Netherlands on February 13, 1967.
He started his DJ career in 1978 as a radio jock on City Radio The Hague. In 1985 he moved to Radio Veronica, one of Hollands biggest national radiostations.
He also started to present the Radio Veronica Road Show. His name became known all over The Netherlands.

When house music entered the scene, DJ Jurgen moved along with this new style of music into the clubscene. Since then DJ Jurgen developed his own style, which is strong groovy house and trance.
DJ Jurgen used to be resident at the Hour Power (Escape Amsterdam) and the Asta (The Hague). But now, he is DJ-ing at various clubs and parties all over Europe and beyond.
In 1995 DJ Jurgen started producing and he released his first record in 1996. Next to producing and DJ-ing, DJ Jurgen also compiles DJ compilations, such as "This is Jurgen" and recently "Jurgen I and II".
In 1999 the single "Better off Alone" was a huge succes.
It was a top 10 hit in the Dutch Top 40 and reached number 2 in the UK Top 40. In spring 2000 his single "Higher & Higher", was released all over Europe and the USA and it reached the Dutch single Top 10 and the German Top 50.
The new single "One Step Away" will be available as from May 2002. It is a strong dance track with a very catchy vocal hook line that keeps on spinning in your mind all day.