Marysol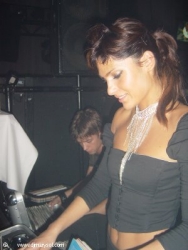 Latin spirit, passion for music and killer looks.
Combine these aspects and you come to a huge female force in house music today:
DJ MarYSol.

Having the best and most well known weekly club event Chemistry as her main playground,
MarYSol has inspired lots of clubbers with her exquisite taste of music.

For the Dutch audience, she got known with her own night at Supperclub, called Sunday Delight.
Within no time, she became resident and co-organiser of Amsterdam's hottest Thursday night, Rush.
Beside that, she made appearances in Now&Wow, Club More, Las Palmas , Healers & Beads, Shagadelic, Club Love, Cubic and others?. But her appearances at the biggest Dutch festivals, New Frontier, FFWD parade, Beachpop, Extrema, Impulz, 4Elements, Mysteryland, Sensation and Dance Valley have made her famous.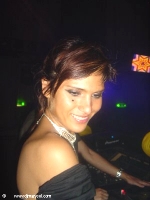 Her secret? MarYSol brings a highly international and eclectic sound, which can be best described as a fusion of house, tech-house and tribal rhythms. As her name attest (sea and sun) her music creates a sense of happiness and a mood of inspiration along with those essential elements: beautiful vibes.
Her ability to gage the desires of what the audience wants is propelling her to the status of a major player within the club scene worldwide.

Due to her unique style and vibe, MarYSol's bookings have taken her around the globe:
New York's Twilo, Miami's Music Winter Conference, Nicky's Beach and Opium Garden.
London's Sleaze. LaRocca and Café d'Anvers in Belgium, Discoteque and Dansatoria in Barcelona, Mecca in Prague, Hamburg's Taiga Bar, Rubin & Rangavilas, Glamorama in Munchen. Millaenya in Rome, Rio de Janeiro's Dance Event, Screen in Finland, Oman in Jeruzalem, venues in Turkey, Egypt and Greece.

She can also be regularly found in Paris. The city in which she lived for more than five years and where her career started at Follies Pigalle. This year MarYSol had a monthly residency at Kit Kat. Recently she became resident of the Ibiza Lovers parties at Elysee Montmartre and La La Land in Redlight Club.

If there is one place MarYSol really feels connected to, it is Ibiza.
She started out at KM5 and helped making DC10 to what it is today. Her roots on the island go way back, and during her many visits she made appearances in Pacha, Amnesia, Privilege, Pin-Up, Underground and Space. Needless to say, she will continue to be one of the main djs of the Island.

MarYSol brought out her first CD in 2001. 'Sounds of Summer' was the perfect representation of her sound, showcasing a strong build up of high quality tracks.

MarYSol joined Chemistry with her own saturday night as of april 2003.