DJ Melvin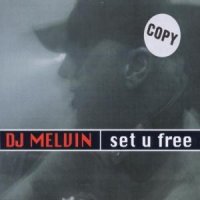 Melvin started his dj career in 1995 as a regular guest dj in local clubs like Scala / Seven and various parties in his hometown Utrecht. Two years later, Melvin started as a resident dj at the popular afterhours clubs Latido and Lexion in Zaandam.
In the same year it was for the first time that he played alongside DJ Jean during his well known Madhouse Friday night at the iT, Amsterdam. From then on, the career of DJ Melvin moved very fast; he started dj-ing regularly at the iT and sometimes played solo during the absence of the resident dj`s.
1998 was the year that Melvin started playing at several clubs and parties all over Holland and Europe.
Now in the year 2003 Melvin became resident dj of the new iT on Friday together with DJ Jean and E- Craig
After being resident at the Waakzaamheid for one year, Melvin started producing with well established producers like Kenneth Heuvel (The House Negro) and Jas van Houten (Nether Man) for several labels like iT Records, Walnut and Rewind (Combined Forces) and Vinyl Inside (BPM Dance).

In the year 2001 he started producing with good friend and well-known producer
Richard van Schooneveld, better known as G-Spott. This cooperation would lead to the release of ?L.O.I.S.` a record released under his own name and dedicated to his 6-year-old daughter Lois, who also played a significant part in the video.
After ?L.O.I.S` reached a # 1 position within 3 weeks in the Dutch Dance Charts, the single reached top 20 in the Dutch Singles Charts and the video could be found on high rotation play lists of TMF and The Box. Thanks to these successes, DJ Melvin became a respected producer next to his fame as a highly skilled club DJ.
The follow-up ?Set u free`, went to the # 1 position of the Dance Charts and was the second highest entry in the Singles Charts and # 3 in the Dutch tip parade, it`s clearly following the same pattern as L.O.I.S!
In the near future, Melvin will release some more underground related tracks as Melvin Reese on Vinylized.
The new DJ Melvin is soon to be released!