DJ Misja Helsloot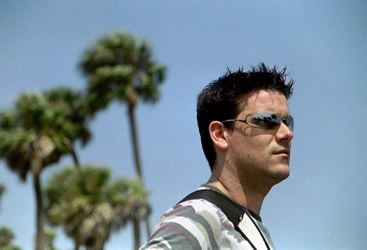 What better way to kick off a career than mixing In Trance We Trust 001? Misja Helsloot (born 21-1-1973 in Rotterdam, the Netherlands) couldn't imagine a better start, when he is asked to do the first edition of this renowned series of high quality trance mixes on Black Hole Recordings, in september 1998.
The mixalbum is well sold in the Netherlands, Israel and Norway, which results in many DJ bookings for Misja in these countries.
In 1999 Misja starts his own sublabel called C4, under the wings of a record company in Rotterdam. And in December 1999 Misja is proud to release his first CD on this label: The Creation - Day One. This is to be the first album in a series of seven. In the footsteps of another great creation that was completed in seven days.
His name is getting bigger in Scandinavia, and so are the venues he plays at. Misja is booked twice on Hyperstate (the Innercity of Scandinavia), October 1999 in Denmark and April 2001 in Norway. And both his CD and DJ successes lead to an invitation to mix Djunggi, number 10 of the succesfull CD compilation series Forbidden Paradise. This double album is released August 2000. And one month later the second part of his own CD series sees the light, The Creation - Day Two.
Still looking for additional ways to exploit his passion for music, Misja starts to invest in a studio at home. In 2000, this results in his debut as a producer. Together with Alpha Breed, he does a remix of the Inkfish track Orange Envelope. Followed by remixing Summer in the city, the Soulvation hit single. Later on, mixalbums Oslo Central 02 (in Scandinavia) and Face the wild, the 11th edition of Forbidden Paradise, are released.
Misja takes the next step, wanting to be in full control of the things he does. So in August 2001, a new record company is born. With Gesture Music, started together with Roland K (San Project, 2 men strong) and Maarten van Oosten (Orientalist), a dream comes true. Misja's first release on Gesture Music is his very own production Misja Helsloot - First Second. This track, released September 2002, is played a lot by Paul van Dyk (e.g. in his Essential Mix). This record company is also the basis for young talents in the trance scene. By signing promising artists, Misja gives them the opportunity to release their work and to further develop their talents.
In the summer of 2002 Misja plays at all major festivals in the Netherlands like Extrema, Love Fields and Dance Valley. Misja's name is steadily rising, both as DJ and producer. Several remixes are made, such as Ozone's Ionize and Orion (Miika Kuisma) and Misja has the honours to record the Impulz themesong, A Different World, on the Gesture label First Second. New mix-cd's are released: Capital and (back to were it all began) ITWT 007.
DJ bookings in 2003 bring Misja around the globe: from the Cocorico in Italy to the Opium Garden in Miami to The Dome in Tell Aviv, and back home to major gigs such as Impulz, Dance Valley and the end party of the FFWD Dance Parade in Rotterdam. First Second is followed up by a new relevant release, played by a lot of big names in the scene. Back from your past, a track by Misja Helsloot featuring Shane54. Misja's remix of Recitation by Swedish Robert Lidstroem is doing very well in the clubs.
In January of 2004, a new highlight is added to Misja's career. Ten thousands of party people witness him opening the Mainstage at Trance Energy. Another relevant gig is his performance on Qontact. In april his new double mixalbum Back From Your Past is released. To promote this CD Misja does a world tour taking him to Australia, Canada and Finland, followed by a Dutch clubtour in May and June. During the festival season, Misja can be seen at Dance Valley, Q-beach, FFWD (hosting his own truck) and Decibel Outdoor (hosting his own area). After summer Misja headlines the Tranzexperience party in Finland. He is also responsible for the party cd, Tranzexperience '04, being his 10th mix-cd. A busy period follows, playing in Turkey, Slovenia and France. In between, Misja does remixes for Dreas Havannah, Mike Koglin Yoake and Stefan Mone's Beautiful Ways. To support the American release of the BFYP mixalbum, Misja spins at Club Heaven in Hollywood, CA.
The year 2005 kicks off with a weekly radio show on www.etn.fm, called First Sessions. Another on-line mixing hour Misja takes care of, is the monthly True To Trance show on www.di.fm. More and more, Misja focusses abroad and the cooperation with foreign booking agents leads to gigs in Germany, Sweden, Poland. Speaking of cooperations& in joining the Swerve Artist Management in March, Misja hooks up with the famous London based live act Binary Finary. Major gigs in Canada and Slovenia are done. In Spring his uplifting trancer Blue Monkey is released, including a Pierre Hiver remix that has already been hammered by TiŽsto, Paul van Dyk and Armin van Buuren, the full Top3 of the world. Remixes done are Robbie Riveira - All about you and DJ RV vs Odyssee - Sleepless.
April 1, 2005 is a day to remember. The Airborn Residency takes off, literally. Transavia and Misja Helsloot join hands in the air, when Misja takes care of a 90 minute radioshow that is exclusively broadcasted on all flights of this Dutch airline company. For Misja Helsloot, the sky is no limit.
In Frankfurt, the famous Technoclub is conquered, and in May Misja makes his UK debut. He headlines the Passion clubnight in the Emporium venue in Coalville, five days later followed by a gig in Turnmills, London. Maybe his best set ever, Misja spins at Asta as closing DJ of TiŽsto's ISOS 4 clubtour. In Summer Misja performs in Poland and Russia, his track Blue Monkey reaches the new Ferry Corsten album Passport, and Misja does several benefit gigs as embassador for KiKa (aid for children who suffer from cancer). At the ZŁrich Streetparade in Switzerland, Misja plays for the biggest audience of his career so far. Over a million people flock the parade, where Misja spins at the Offshore truck, plays at the end party at the Opernhaus BŁhne and performs at the afterparty in Club Abart. Last part of the year Misja is booked in many Dutch clubs and headlines the Energy Night at the Gaudi Arena in Moscow. In the studio Misja makes a stunning remix for ATN's monstertune Miss a day and he works hard on new productions to be released in 2006.
And that year, 2006, has a sunny start when Misja plays at Zanta Beach in Curacao. And a fresh start with a new agency to represent him, BB Bookings. Misja has the honour to be the first DJ outside Germany to participate in Trance Nation and mixes edition 22 of this well renowned series. Release is set for february. One of the featured tracks is his brand new and very own Out of hand, with vocals by Linn. Furthermore a new on-line radio show will see the light: Remarkable. Named after the Gesture Music sublabel Remark, this show will stand for the more progressive style of trance. Misja keeps on flying high with his Airborn Residency for Transavia another season and also his brand new website will hit the skies in February.

12 inch
Misja Helsloot feat Linn: Out of hand
Misja Helsloot, Blue Monkey
Misja Helsloot feat Shane54, Back From Your Past
Misja Helsloot, First Second
Misja Helsloot vs Roland K feat Nicole, A Different World
Misja Helsloot, First Second, 2 Men Strong, The Beast Within'
Dj Misja, E-Mocean
Mix CD
Misja Helsloot, Trance Nation 22
Misja Helsloot, Tranzexperience 04
Misja Helsloot, Back from your past
Misja Helsloot, Capital
Misja Helsloot, In Trance We Trust 007
Misja Helsloot, Forbidden Paradise 11
Misja Helsloot, Oslo Central vol. 2
Misja Helsloot, The Creation
Misja Helsloot, Forbidden Paradise 10
Misja Helsloot, The Creation
Misja Helsloot, In Trance We Trust 001
Remix
ATN, Miss a day
Stefan Mone, Beautifull Ways
Mike Koglin vs DJ Uto, Yoake
Dreas pres. Havannah, Havannah
Robert Lidstroem, Recitation, In Trance We Trust, 50th vinyl release
Miika Kuisma, Orion
Ozone, Ionize
Soulvation, Summer in the city
Inkfish, Orange Envelope