DJ Natarcia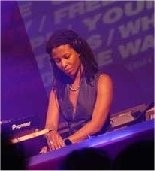 Natarcia Ommen, better known as DJ Natarcia, is one of Holland's best female dj`s. She started her career as a dancer in 1988 with the houseband ?Fierce Ruling Diva`s`. After two years of dancing on the music she decided it would be nice to play the music.

She started her career off as a resident dj at Club Havana
were she played mostly R&B and Garage and Pussylounge/Roxy.
Nowaday`s she performes in many different clubs and party`s all over Holland were she plays from House to Techno.
Amongst others are Wasteland, Stalker, TMF showcase, Extrema, Silly Symphonies and various in and outdoor COC party`s.
In February ?98 she appeared on the TMF (Dutch music television) program ?The dj ?s`.
International her dj career developed too, she played in many different countries such as, Germany, Belgium, Spain and Israel.

Her current residencies are Melkweg Pussylounge, More Habiba, Havanna and Club Stalker.