Ron van den Beuken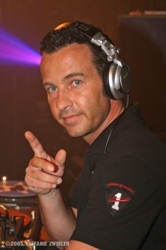 Ron van den Beuken, started making dance-music about eight years ago. He studied at the conservatorium of Maastricht and also went to University as a law student. After completing his study he got into the dance-scene (by co-incedense) with his first record, 'feel it'. It was a clubtune which was on number 1 in Holland for several weeks. He continued with another track called 'Keep it Up'. This one became a big Top-10 Hit in Scandinavia.

After the success of this track Ron decided to do more different projects, and he started his first Trance Project wich was called Shane, 'Cest Muzique'.

After this succes Ron produced The Mystery ('Mystery') which got a lot of popularity from DJs like Dave Pearce (BBC Radio 1) and Johan Gielen. 'The Mystery' has been released in countries all over the world, like Spain, Southern Africa, Australia, The Netherlands, Canada, Israel and Japan. Thanks to the huge popularity of the DJs and Clubs it got licensing deals all over the world. It got into the Top 75 Sales Chart in U.K.

Ron's next track 'Devotion' (All i ever wanted) was another big hit. Once more it got a lot of support from DJs, such as Paul van Dijk, Armin van Buuren, Johan Gielen, Black & Jones, Judge Jules and many more. Again Top 75 U.K and for the first time Top-100 Sales Chart Holland.

In 2003 Ron introduced Clokx, covering clocks from Coldplay. It reached many number one positions in the dance-charts all over the world, and it got entry in Top-100 Sales Chart Holland.

Soon after that, his new record "Timeless" was released. This one became a huge success in clubs all over Europe, and it was the finally breakthrough for Ron van den Beuken.
"Timeless" was Dance-smash(1) at Radio538 and floorfiller at Radio3, and again Top-100.At was in the sales charts for 17 weeks!!

After "Timeless" Ron produced the record "Overdrive". This track got a lot of support from very important dj's, like Tiësto, Marco V, Armin, etc.
Again number one in all dance-charts and this time it became his first Top-40 cross-over hit! And again Dance-smash(2) at Radio538 and floorfiller at Radio3. It was on rotation at Radio538 for 21 weeks!!

Also Ron produced "Twister". This one he produced together with Sander van Doorn(mr Sam Sharp). Again it was number one in all dutch Dance Charts! Again Dance-smash(3) at Radio538, and Top-100 salescharts, Top-30 Pepsi Charts, and Top-40 normal sales Charts!!!!!

Lately he did a Remix for the well known Randy Katana, "In Silence". Again the track reached all number one positions in the Dutch Dance Charts. And again Dance-smash(4) at Radio538 (nr.1 Radio of Holland atm). This was the fourth Dance-smash for Ron van den Beuken in one year. Never, there has been a dutch dance producer who achieved this!!!!

After this record Ron produced the Record "Endless". It reached all number 1. position in the Dance-charts and became a hit by reaching the Top-100 sales-charts. This record contains also a fantastic video, shooten in Poland at a big festival in Poland.

After the record "Endless" Ron produced the new Clokx "Feelings", also this track reached the Top-100 salescharts again, and became a small commercial succes, thanks to the support of most famous dj's.

Soon after Clokx, Ron produced the track "Sunset". This one again was Dance-smash at Radio538 (5). The track reached the number 22 position in the official Salescharts, which is the highest position for Ron till now, and also his biggest hit so far:)


At the moment there's a lot of asking for remixes. In the past remixes were made, for example Quiksilver, G-Spott, 4 Strings, Sash, CRW, Blank & Jones, Macc Zimms, CRW, Katana, Dj Tatana, Nightlife, etc.
The latest Rmx thats gonna be released will be the one for John Marks, who scored a hudge hit in Holland with his first single, 3 months ago.